I read the first three Lunar Chronicles novels last Spring and, although they certainly weren't perfect, I fell in love with them. I've been putting off reading the novella telling Levana's story simply because I didn't want to buy it on my Kindle. When I saw it on the shelf at the library last week, I picked it up without hesitation.
Fairest by Marissa Meyer
My Rating: 1.5 / 5 stars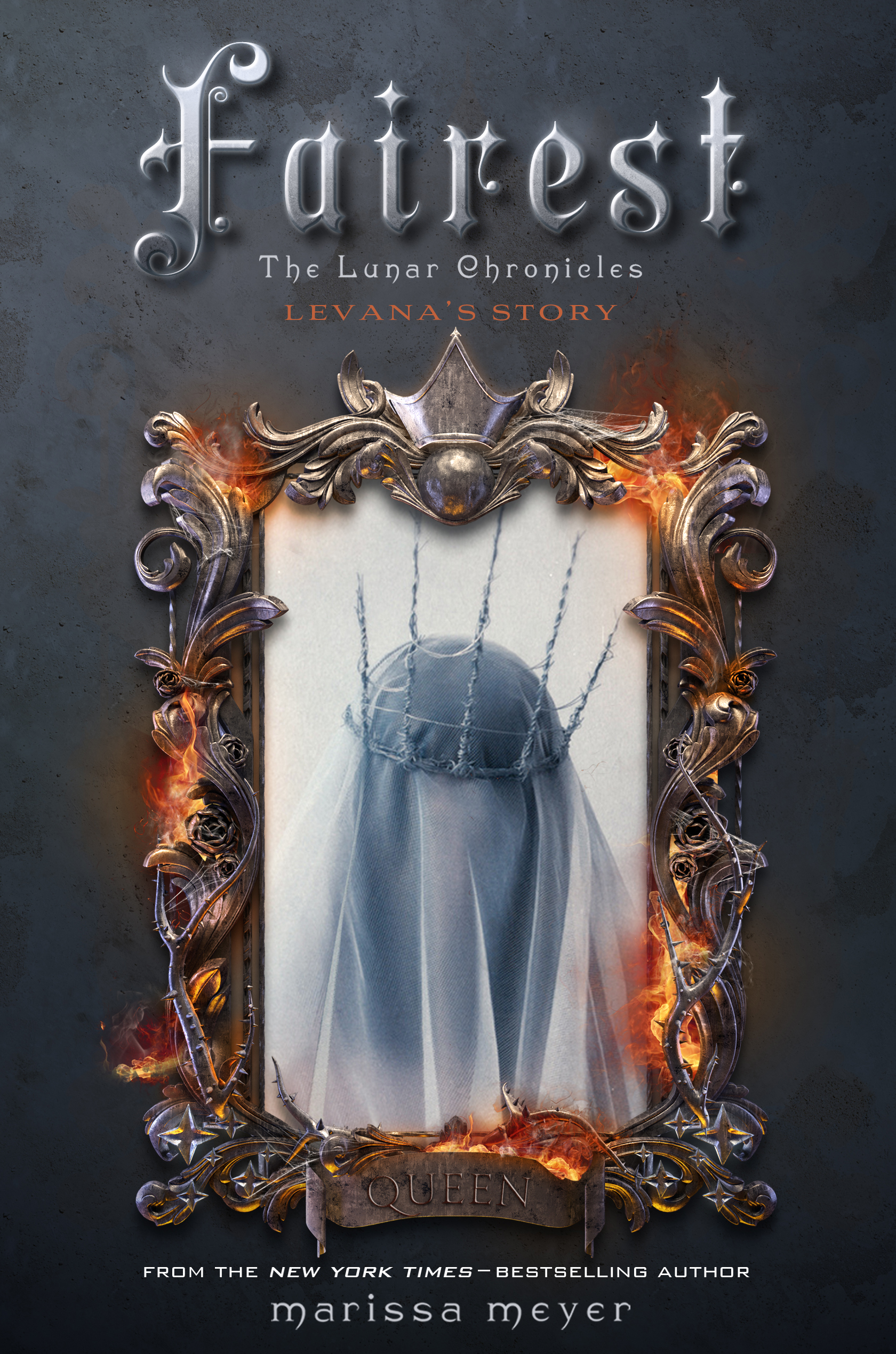 Summary from Goodreads: Fans of the Lunar Chronicles know Queen Levana as a ruler who uses her "glamour" to gain power. But long before she crossed paths with Cinder, Scarlet, and Cress, Levana lived a very different story – a story that has never been told . . . until now. Marissa Meyer spins yet another unforgettable tale about love and war, deceit and death. This extraordinary book includes full-color art and an excerpt from Winter, the next book in the Lunar Chronicles series.
My Thoughts:
The Lunar Chronicles books leave you with serious questions regarding Levana. Why does she wear the veil? Why is she so evil? Was she born a tyrant or made into one? This novella answers those questions. Because I liked the series so much, I hoped to enjoy this.
As you can tell by my rating, I was disappointed.
The focus is completely on Levana–her life, her story, her problems. After cracking open the book, it doesn't take long to see that she has reason to be unhappy. Disfigured by the cruelty of her elder sister, Levana is a lonely, insecure girl who just wants someone to value her existence. At first, this is sad. Pitiable, even.
But it becomes quickly apparent that the protagonist is also extremely immature, trying to fill her lonliness by forcing a palace guard to marry her, despite the fact that he is in the midst of mourning his beloved wife. This sets Levana on a lifelong course of manipulation, self-importance, and desire for domination.
What disgusts me about Levana is that her childhood mistreatment, though horrifying, makes her feel that she deserves love, no matter what the cost. It leads to the ruin of multiple lives. In order to cling to the thin fabrication of love she's worked so hard to possess, she turns to violence.
At one point, she has everything she has ever wanted: a husband, step-daughter, and even the throne. But it's not enough. She becomes increasingly power-hungry and paranoid. In attempt to become all-powerful, she destroys the very thing that she first loved.
Levana is not an admirable character, nor a likable one. At the start, she's pitiable. At the end, she's disgusting. I don't know why Meyer felt her story needed to be told. It doesn't redeem Levana in the slightest. It just makes me hate her more. I sure do hope that Cinder succeeds in taking her down in the final novel, which comes out in November.
You Will Like If: You enjoy fairy tales, The Lunar Chronicles, villain backstories