I've decided to switch up my On the Shelf this week.  Instead of one big review, I've done some mini-reviews, followed by some chit chat about other books I've been reading.  (Also, apologies for being a day late on this post…)
The Heir by Kiera Cass
Rating: 3.5 / 5 stars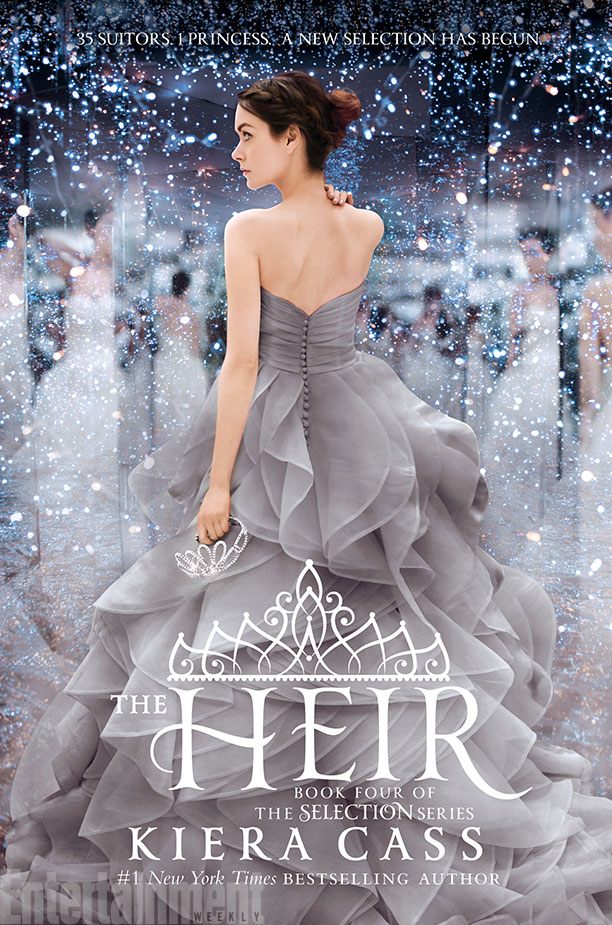 A few weeks ago, I finally picked up the fourth book in Cass's The Selection series.  The thing about Cass is that she isn't a breathtaking writer–her post-apocalyptic America is relatively boring and her characters lack depth–but I somehow still love her books.  They're like a mashup of The Hunger Games, The Bachelor, and all my favorite fairy tales.
Taking place after the trilogy ends, the book centers around Eadlyn, the first female heir to the throne.  Although the caste system has been dissolved, the country's problems aren't over.  Citizens are increasingly unhappy and are beginning to turn on the royal family.  In attempt to lift morale, another Selection begins and male suitors begin pouring into the palace from all over the country, determined to win Eadlyn's hand.
For the most part, Eadlyn isn't very likable.  She's stubborn, proud, and stuck-up.  She's pretty high and mighty, but her many flaws are partially forgivable because of the amount she gives up for her throne.  The book makes clear that, given the choice, she wouldn't choose to rule the country.  But she throws herself into it anyways and, throughout the book, sacrifices her personal desires for her position.  That doesn't wholly redeem her, though.  She still is annoying at points.
What I love about this book is that it takes us on the other side of the Selection.  In the first three books, we see it all from the point of view of one of the participants.  In this story, we get to see the process from the heir's point of view.  What would it be like to balance dating 30 young men and learning to rule an unstable country?
The other thing I love is that it brings out a lot of double-standards.  Being a feminist, I LOVE seeing double-standards exposed.  Before this, it was always a male heir surrounded by female suitors.  Boys, though, respond differently to the competition.  While girls got into spats, boys brawl.  With a female heir, sexual assault becomes an issue.  While it's okay for male heirs to get physical with the candidates, a female one is looked down upon as loose.  While the press was all about praising Maxon in the first series, it seems out to get Eadlyn–painting her as a prideful, spoiled, ice queen.
Is The Heir the best piece of literature out there?  Nope.  Is it enjoyable?  Definitely.
The Kingkiller Chronicles: The Name of the Wind & The Wise Man's Fear by Patrick Rothfuss
Rating: 2 / 5 stars
Summary: Told in Kvothe's own voice, this is the tale of the magically gifted young man who grows to be the most notorious wizard his world has ever seen. The intimate narrative of his childhood in a troupe of traveling players, his years spent as a near-feral orphan in a crime-ridden city, his daringly brazen yet successful bid to enter a legendary school of magic, and his life as a fugitive after the murder of a king form a gripping coming-of-age story unrivaled in recent literature.
I picked up this unfinished series at the high recommendation of a book lover friend.  It's been a while since I picked up a massive fantasy novel and thought I'd give the highly-acclaimed series a try.  What I can say is that Rothfuss is a very gifted writer.  His prose is truly excellent.
What I can't say is that I enjoyed these books.  Although they're entertaining/easy reads, I didn't feel myself loving these books.  The way they're set up bothers me.  The premise is that there's one story taking place present-time regarding a civil war with mysterious monsters on the loose.  The main character, Kvote, is the stuff of legend, but has taken cover as an innkeeper and thought dead.  When discovered by a recorder of stories, Kvote decides to tell his.  The majority of the books follow the course of his life–tracing his childhood in a troupe of traveling musicians to years living as a street urchin to living as a student at the university.  In the second book, Kvote continues his studies, helps a king woo a wife, tracks down bandits in the woods, winds up in the fairy world and shacks up with a fae temptress, and spends time with an off-the-map society where he learns to fight.  All the while, Kvote looks for information on the Chandrian–a group of killers out of legends who killed his parents.
The story, 'though intriguing, feels like it's going nowhere.  Kvote isn't very likable.  He goes from adventure to adventure and is amazing at everything he does.  He's an amazing musician, student, lover, fighter, and magician.  There's nothing he can't do…  And he's a smart-ass.
Then there's his love interest, Denna.  Ugh.  She's one of the worst female characters I've ever encountered.  I'd go into how awful she is, but a Goodreads reviewer has said it better than I ever could.
If you're into fantasy, you might like these books.  If not, skip them.
Other Books I'm Reading…
I'm still plugging through The Silmarillion by Tolkien.  It's breathtaking, but extremely thick.  I can only manage thirty pages a week.  This afternoon, I finally breached the 200 page mark.  It's slow going, but I'll have it finished by the time summer ends!
At work, I'm listening through Harry Potter again.  This week, I reached Order of the Phoenix… so my hours are filled with lots of angst.  I plowed through Goblet of Fire last week and, in the wake of Voldemort's return, I'm once again annoyed by how unpleasant Harry is in this book.  But it's okay.  It just makes me thankful I'm out of the teen years.
Recently, I picked up Daughter of the Forest by Juliet Marillier.  Yes, more fantasy.  It's the first of Marillier's Sevenwaters series.  I've read the whole series already, but it's been a few years.  The first is a retelling of Hans Christian Andersen's story "The Wild Swans".  I love a good fairytale retelling and am looking forward to this read.
That's it for this week's On the Shelf.  What books have you been reading lately?